Essay Writing Contest Results
---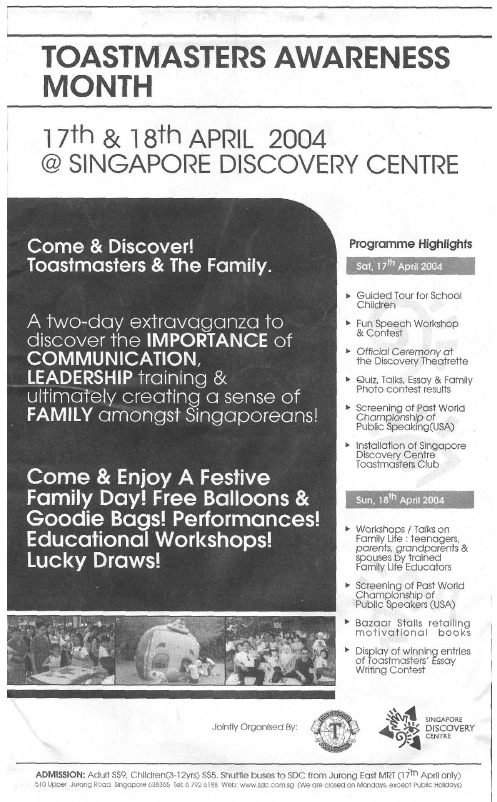 Advertisement on Straits Time 16th April 2004, Page 3

Objectives of Toastmasters Awareness Month
1. To promote awareness of toastmasters activities to members and
public with emphasis on
Toastmasters International Mission

Member's promise

District theme – Expand Our Horizons... In Speaking, In Leading, In Serving
2. To get new members for Divisions (through Clubs)

3. To involve families in Toastmasters activities, in-line with Theme
of UN International Year of the Family
Singapore Discovery Center
The 6 NEM - National Education Messages:
Ø Singapore is our homeland
Ø Preserve racial & religious harmony
Ø Uphold meritocracy & prevent corruption
Ø No one owes Singapore a living
Ø We ourselves must defend our nation
Ø Have confidence in our future.
DISCOVER your FAMILY --- DISCOVER YOU !!
D Know & understand
I your
S Personality
C Profile
O Find out about your
V Parenting Style
E Jellyfish, Sergeant Major
R Busy Bee or Backbone Coach
F Fun. A family is FUN
A Affirms and Appreciates
M Mission Statement – the 6 NEM
I Interactive - Communication
L Love – the 5 love languages
Y You. It starts with you.
---
Please contact your Division Governors, Area Governors or
Organising Committee for Tickets.


Main Organising Committee
Organising Chair Boey Yut Mei
Deputy Organising Chair
Edmund Chew
Finance / Treasurer Division B
Secretary / Admin Division D
Public Relations
Division S
Programme
Division Z